Ok I just want to start off by saying this was a pain. Looking at it it seemed pretty straight forward and simple, boy was i wrong. I will list two ways to do this repair. One being what my GM manual calls for and the other will be the way I had to do it on my 20 year old Wisconsin car (that means FUN, not)
-----------------------------------------------------------
GM Manual
-------------------------------------------------------------
Tools Required:
1. Ball Joint Separator (I believe this is a special too that only GM has, don't quote me on that though)
2. Axle seal protector (in other words don't mess up the Axle boot)
3. Thats all that is listed but as you will see you will need more.
Step 1

:
Jack up car using proper procedures and safety. Remove wheel
Step 2

:
Remove Cotter pin from ball joint
Step 3

:
Remove Ball Joint form steering knuckle using ball joint separator.
Step 4

:
Drill out rivets retaining Ball Joint to control arm.
For installation

:
Step 1

:
Align holes on control arm with those of ball joint and bolt in. (Make sure bolts face down and nuts are applied from bottom.
Step 2

:
Attach ball Joint to knuckle and install Ball Joint nut and cotter pin.
----------------------------------------------------------
Aftermarket Ball Joint Removal
----------------------------------------------------
Note:

Factory ball joints are installed with large rivets that are pressed into the control arm instead of bolts. These rivets must be removed by grinding or chiseling off the head of the rivet and then punching the body of the rivet out. Air tools are highly recommended when removing factory ball joints.
Tools Needed (or to have handy depending)
1. 18 mm flared wrench
2. 19 mm socket
3. 13 or 14 mm socket and wrench (sway bar links)
4. Needle nose pliers
5. Adjustable wrench
6. 3/4 wrench
7. W-D 40 or some other lubricant
8. Propane torch (maybe)
8. Hammer.
9. Pickle fork
10. Flat head Screw drivers
11. Chisel
12. Reciprocating Saw
13. Dremel tool
You may not need all these but when all said and done I used all of these tools so it wouldn't hurt to have these tools available.
Step 1:
Jack up car using proper procedure and safety first!
Remove Wheel
Step 2:
Unbolt three bolts holding ball joint on to the control arm. If you soaked the nuts and bolts in lubricant they may come off, but I had to use heat to make the process move along. (19mm socket and wrench (i didn't have wrench so used 3/4)
Step 3:
Remove Cotter Pin from Ball Joint
Remove Castle nut (18mm) nut from ball Joint.
Note: The nuts on my car stripped very easily. Tried various sizes and the 18 fit very will but still slipped, if you have this problem see
Step 2B
, if no problems go to step 3. If they make a thin 18mm wrench you mat be able to fit that on as long as it is boxed end, but i didn't have one so ...
Step 2B

:
Cut off Nut . Get as close to the knuckle as you can, but do not dig in to the knuckle and cut the nut and stud off as clean as you can. At this point the ball joint may or may not fall out. There was a little "extra metal" hanging around the stud on mine so i used the chisel and hammed then a long flat head to make sure there was no remains of the nut then knocked it through. I also used a dremel on the other side because there was the washer section of the nut still intact, but that may not be needed.
Step 3

:
OK now the ball joint is unbolted form the control arm and the knuckle. Now unbolt your sway bar end link. If it breaks or is to hard to turn again do as I did, CUT IT OFF. End links are cheap so no big deal.
Step 4

:
Push down on control arm and remove from knuckle using pickle fork and hammer, then pull bolts out from the control arm and then the ball joint should fall out. This is a good time to do any cleaning you wish to do to this area.
Installation

:
Step 1

:
Bolt new ball joint to control arm. Make sure it is snug so not to shift when you place in to knuckle.
Step 2

:
Push down on control arm and move knuckle over ball joint stud and place the stud in the knuckle.
Step 3

:
Bolt on castle nut, making sure it is tight as well, then apply cotter pin. Double check ball joint bolts on the control arm.
Step 4:
Install new sway bar end links if needed.
You're Done!!
!
----------------------------------------------------------
Factory Ball Joint Removal
----------------------------------------------------
Step 1:
Support car and remove wheel. Remove caliper and hang it out of your way on a piece of wire. Remove rotor and set aside.
Step 2:
Remove cotter pin and castle nut from top of ball joint and base of tie rod. Use a tie rod separator to break the tie rod off the spindle. Use a pickle fork to break the ball joint off the spindle.
Remove large nut on the end of the CV axle (36 or 34mm, can't remember for sure which).
Step 3:
Summon the force of Greyskull and use a prybar to lift up on the spindle and off the ball joint. Secure the strut assembly away with wire or remove entirely as now would be an EXCELLENT time to replace your struts and strut mounts. Remove axle from transmission by gently pulling on the shaft closest the trans or gently prying (contrary to the advice stamped onto the trans case
).
You seriously need this stuff out of the way so that you can easily access the ball joint for removal.
Step 4:
Now comes time to remove the heads of the rivets. This is very time intensive the first go around but by the second joint should only take around half an hour if you have air tools and practice. You have three options (or a combination of these options):
1: Use a grinder and just grind off the head. Use a pneumatic punch to punch out the rivets after heating them with a torch.
2. Use a stepdrill or a series of drill bits to gradually drill off the rivet head and then punch out the rest of the rivet.
3. Use a good air chisel and just chisel off the rivet heads and then use a pneumatic punch to knock out the rivets.
When you're done you should have something that looks like this (now is the the time to clean your subframe of rust and coat it with your favorite inhibitor):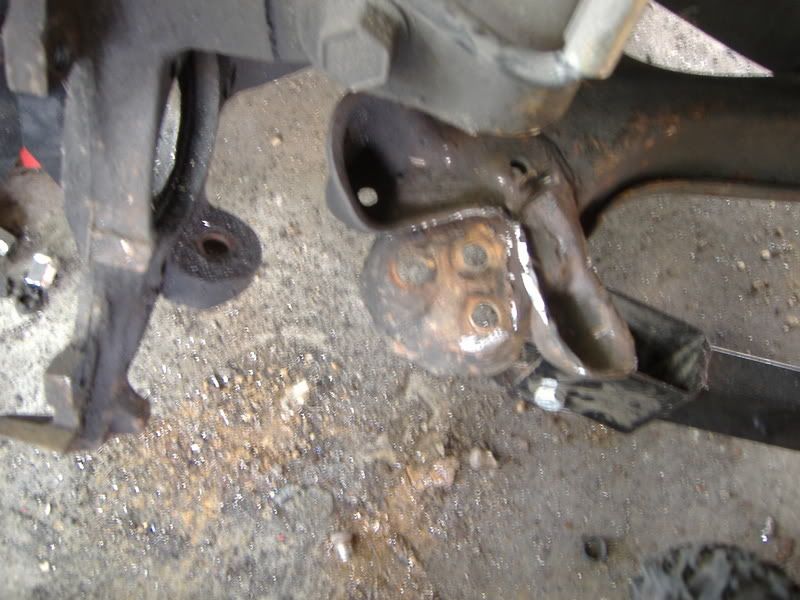 Step 5:
Install new ball joint via bolts as supplied with the kit. Do not skimp on the quality as the cheaper units are probably the ones that will strip and break on you later down the road when you need to replace them again. Squirt a little bit of grease in them from a grease gun via the zerk fitting.
The desired effect:
Step 6:
Reinstall the spindle/strut assembly back onto the new ball joint. Again, you will need the assistance of Greyskull. Continue your re-assembly of components (tie rod, rotor, axle, hub, etc). Now is the time to replace or change out parts.
After its all back together head down to your favorite alignment shop (avoid Goodyear and Firestone) to get everything back in order.
Sources:
GM Manual, trial and error, various LeSabreT threads
Dates Modified:
8-28-08
Authors:
Lee King ( Tricked-T) on August 27 2008, Alibi